Imagine that…a seminar about sales..and it was a sell out!  Well, to be more specific…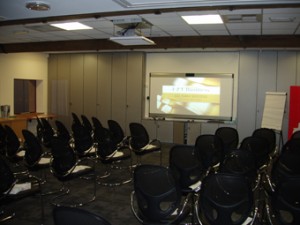 this seminar was aimed at a certain part of the sales process, namely Closing the Sale.  Hence the major interest, as many people I talked with on the night admitted that this was one area that they found a little on the 'scary' side!  But that's ok isn't it? After all the only way we can grow is to identify areas that we're maybe not comfortable with and then do something about it.  And there was no better way than to turn up to a seminar all about sales closing techniques!  The venue was sponsored by Buckles Solicitors, Peterborough and was absolutely excellent (see left), with the food and wine being provided by Waitrose and the organisation plus booking being handled completely by the Cambridgeshire Chamber of Commerce.
In excess of 60 business owners booked and from the feedback recieved  I like to think that I got the mix about right having already decided in advance that I wanted to give away as much useful and practical advice as possible during our time together so that those who attended could really have all of the basic tools necessary to up their game in sales.  We covered many subjects from the basic structure of a sales call to how to handle objections plus one of the most important attributes of professional sales people – and that's having the right mindset.  It's always reassuring to gain feedback from seminars and this was no exception,
"On behalf of the Business Women's sector thank you for your excellent presentation on Tuesday night.  The feedback forms certainly show that it was a very good event.  Of the forms collected 99% ticked 4's or 5's for the overall satisfaction.  A number of people I spoke to on their way out also commented that it was very useful, so thank you for being part of it!" Helen Bosett, Cambridgeshire Chamber of Commerce
'Really enjoyed the presentation' Susan Glynn-Williams,
'Great, very interesting, instructive and helpful!' Celia Johns, Business in the Community
'Thanks for the excellent seminar yesterday. Well presented' Sandra Klein
If you're interested in improving your sales results why not give me a call? – 0870 16 24 121 or click here  and ask a question.
To your success,
Mike