One of my various hobbies is….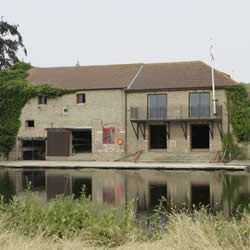 rowing!  This weekend saw the first event of the year which was the Cambridge Rowing Association (CRA) winter league.  There are a couple of things which were a little different for us for this event (what do you mean I'm making excuses already!?).  First being that our club (St Ives Rowing Club see picture) has been a little on the flooded side for the past few weeks – this has meant no training.  We have also just started racing a men's 8 (previously a men's 4), so this meant that for sunday we had a scratch crew in an 8.  Add to that freezing conditions and a nice headwind and….ok…so here's what happened:
Having rigged up the boats we were on the river at 10-30am to race at 10-45am.  This course is 2600 metres upstream.  With the low temperatures it was good to warm up by rowing down to the start line and see how the crew performed.  Once we started the race we were then straight into a biting headwind and the current was also against us, however we gave it our best shot and came 52= which was reasonably respectable when you see the number of rowers that entered: go here for the results.
So what did we learn for the next event?  Well, that if we keep the same crew and get some practice time in, then it's all about improving our skills as a new team and beating our personal best time so far.  We have an opportunity to do this on the next meeting – 18th February!
Here's a thought then: Do you beat yourself up on the 'results' you get in your business sometimes? How regularly do you and/or your team train to ensure they give their best? Have you 'failed if you don't come in first?' Or do you take an overall view of certain 'events' and resolve to say 'ok this time we did our personal best and this is what we will aim to do next time?' And then raise the bar.
I'll keep you posted on the next event!
Regards,
Mike