Mike Yates, business growth specialist, was asked along as a guest speaker at an…
annual Sue Ryder 'Big Wigs' fundraising event for local businesses recently.  The 'Big Wigs' contest challenged local businesses to raise as much money as possible from an initial £50 starting point.  Mike said "I was delighted to be asked along as a special guest speaker at the launch of this event and encourage those businesses to exercise their entrepreneurial flair on their fundraising ideas from an initial £50 start.  It was fascinating to see how each business came up with some really innovative ideas to raise money over a four month period – especially seeing those initial £50 notes turn into a total fundraising figure in excess of £ 35,000".   A selection of the businesses entering the competition included The Royal Mail, The Marriott Hotel Group, Sainsburys and BusinessWatch Group.  The award for Charity Entrepreneur of the Year (the highest amount raised by a single Business) went to the Business Watch Group who raised in excess of £11,000 through a Black and White Ball and charity auction.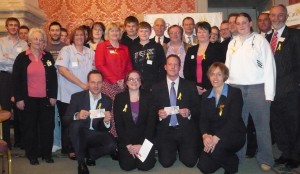 Photo: The Event Launch – Various businesses are given their £50 notes by:
(front row from left), Mike Yates (121 Business Ltd), Emma Long (Sue Ryder) and Chris Burke, Norwich and Peterborough Building Society (Event Sponsors).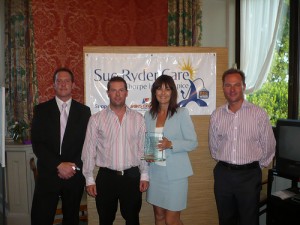 Photo: The award for Charity Entrepreneur of the Year went to BusinessWatch Group.
From Left: Chris Burke (Norwich and Peterborough Building Society – sponsors), Jonathan Wakerley (BusinessWatch Group MD), Claire Booth (BusinessWatch Group PA) and Mike Yates guest speaker (121 Business Ltd)